Attention film fanatics and action-geeks!
The long-awaited fourth installment in the wildly popular John Wick series is finally hitting theaters next week. Keanu Reeves, the beloved actor known from The Matrix, returns as the ruthless assassin John Wick. Get ready for an exhilarating new adventure packed with breathtaking action scenes, revenge, and spine-chilling plot twists.
The new chapter: John Wick 4
After the thrilling cliffhanger in John Wick: Chapter 3 - Parabellum, it's time to find out what happens next with our favorite assassin. In John Wick 4, we dive deeper into the underworld of assassins and the mysterious organization 'The High Table'. John Wick will once again have to pull out all the stops to protect himself and his allies in a battle against old and new enemies.
Main actors:
Keanu Reeves shines again in the lead role as John Wick, but he's not the only big star in this movie. The cast of John Wick 4 consists of an impressive collection of talent, including:
Ian McShane as Winston, the owner of the Continental Hotel
Laurence Fishburne as the enigmatic Bowery King
Halle Berry returns as the formidable assassin Sofia
And many more surprising faces you don't want to miss!
Conclusion:
Don't miss the chance to be among the first to see John Wick 4 in theaters. With a star-studded cast and spectacular action, this movie is a must-see for every film lover and action geek. Make sure to stay up to date with the latest news and updates surrounding John Wick 4, and prepare yourself for an unforgettable cinematic experience!
To keep things fun, next Wednesday, March 22nd, we'll be doing a giveaway of this John Wick Gallery: Running PVC Diorama on our Instagram @fanssite.be.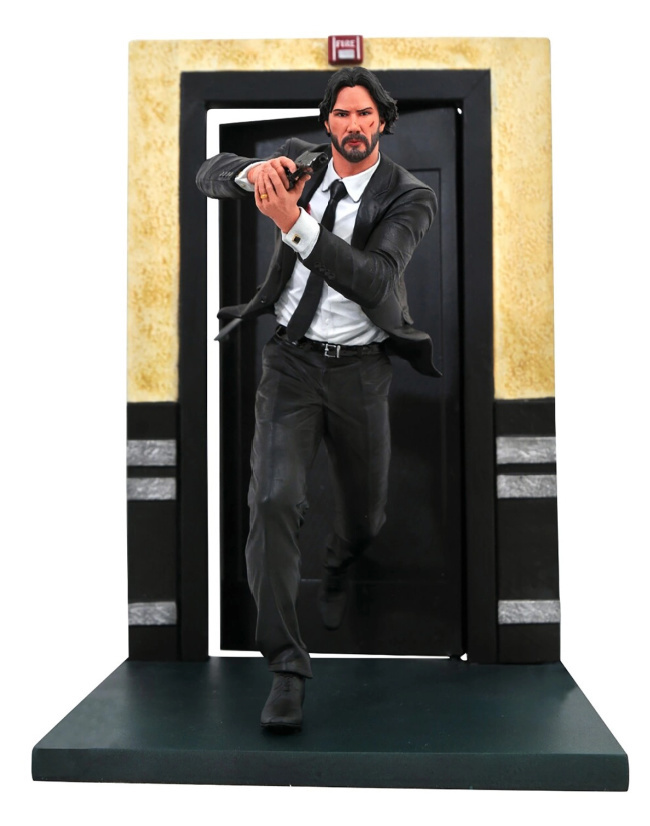 Stay up to date with our latest news andsign up for our Newsletter here