Geplaatst op
Door Thomas
Geplaatst in beam me up, bones, chekov, enterprise, federation, janeway, kirk, klingons, picard, scotty, spock, star trek, sulu, uhura, uss enterprise, vulcans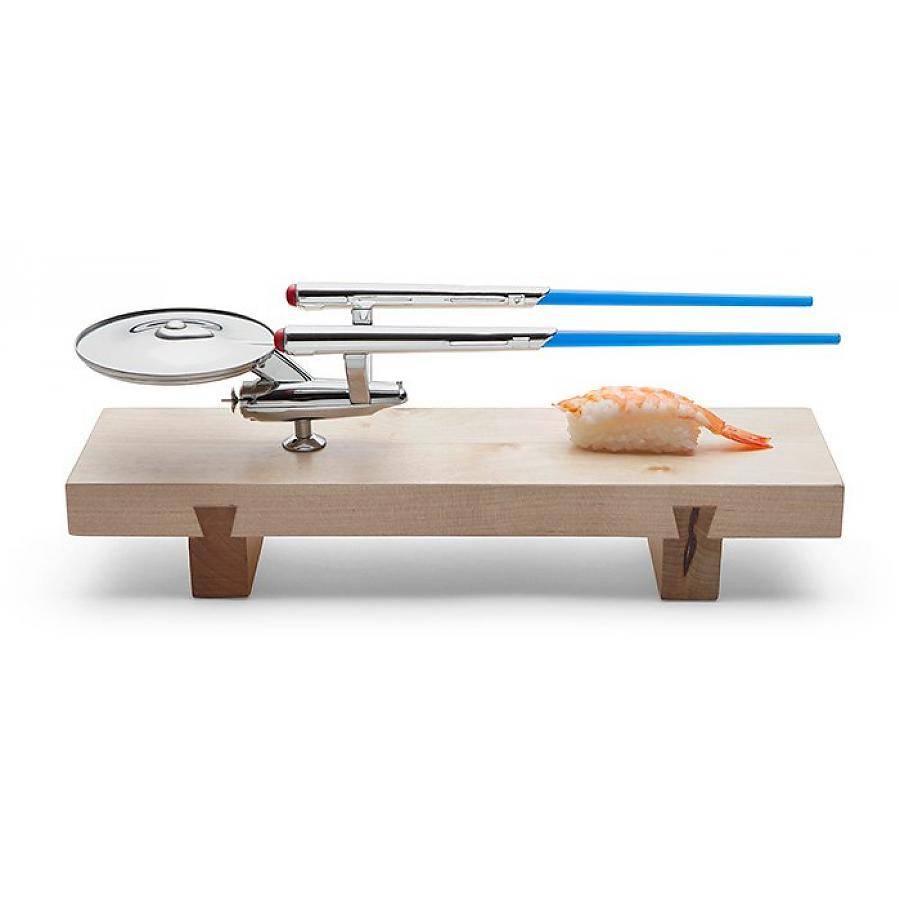 To boldly eat sushi where no man has eaten sushi before
"Space: the final frontier. These are the voyages of the starship Enterprise. Its five-year mission: to explore strange new worlds, to seek out new life and new civilizations, to boldly go where no man has gone before."
De USS Enterprise van de United Federation of Planets haar Starfleet is hét vlagschip, het beste van het beste en bevat dus ook state of the art technologie. Maar al deze technologie is goed en wel, doch als je de crew niet iets te bieden hebt dan draait de werking van het schip ook niet altijd even goed. Je wilt namelijk niet dat je crew zich gaat vervelen.
Daarom brengen we jullie hier bij Fans deze must-have voor de Star Trek fans én zij die al eens graag sushi eten: de Star Trek Sushi set!
Deze prachtige beeltenis van de USS Enterprise staat op een houten basis dat eigenlijk een sushiplankje is. En, wanneer je de bovenkant van de schotelsectie verwijderd zie je een handig schaaltje voor soyasaus om je sushi in te dippen. De eetstokjes zelve zitten dan weer netjes verscholen in de befaamde nacellen.

Aarzel niet en haal dit handige en prachtige dispalystuk in huis voor jouw collectie!